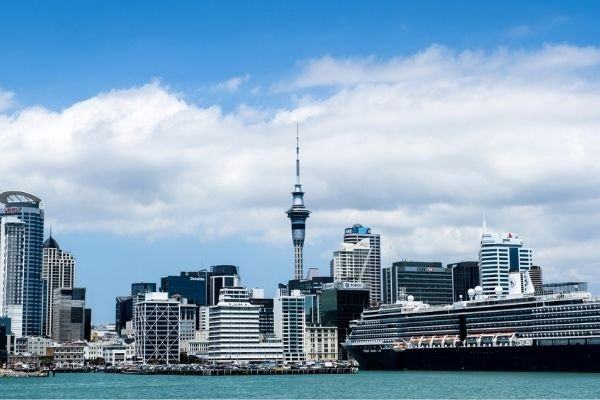 Student Visa Requirements in New Zealand
Let us guide you through your New Zealand student visa application process for your higher education.
Student Visa for New Zealand from Vietnam

With world-renowned universities and top-notch facilities, New Zealand is an excellent choice for those seeking higher education. In addition, the country's scenic beauty and friendly people make it an ideal place to live and study. So whether you're pursuing an internationally-recognised degree or an all-inclusive life experience, studying in New Zealand is sure to be a decision you won't regret.

As part of your planning, it is essential to research the New Zealand student visa requirements and apply for your visa as early as possible. Processing time for New Zealand student visas can take up to 10 weeks, so you don't want to wait until the last minute. Students who have been accepted into a recognised university in New Zealand can apply for a student visa. You can apply for a New Zealand student visa online or offline, through a visa centre or an immigration advisor. Once your application has been submitted, you can check on the status both online and offline.

Here are the Student visa New Zealand requirements you need to meet to apply for the student visa in New Zealand
Acceptance into a New Zealand education institution
Financial requirements
Health check-up documents
English proficiency scores
Character & Conduct requirements
Types of New Zealand student visa
Study up to 3 courses, one after the other, on a single student visa.

Study full-time as an exchange student, switching from one school to another.

Study the course stated on your visa full-time.

Student and Trainee Work Visa

Study with practical training (like medical or dental training) during your course.

Vocational Trainee Student Visa

Pursue professional training through a program or scholarship administered by the Ministry of Foreign Affairs and Trade.

Foreign Government-Supported Student Visa

Students with a foreign loan or scholarship can study and stay up to 4 years.

MFAT Funded NZ Scholarship Visa

Students who have received a scholarship from the Ministry of Foreign Affairs and Trade can avail of this visa.
New Zealand Student Visa Requirements

You'll need to take care of a few things before applying for a New Zealand student visa. Check out the requirements below to see what they are:

An offer letter from an approved education provider
A valid passport for at least three months beyond your stay in New Zealand
Two passport-sized photographs
Completed student visa application form
The receipt of your visa application fee
Health check-up documents
Demonstration of English proficiency through scores from an internationally-recognised test
Character and conduct requirements
Proof of payment of tuition fees or sufficient funds to pay the fees
Documents proving that you have sufficient funds to live there
If your course is longer than 36 weeks, you must provide valid proof of at least NZD 15,000 (23,09,70,155 VND). You can find the right course for you with AECC Search.
 Documents or certificates from institutions that you have attended.
 Score sheets from English tests such as TOEFL, GRE, or GMAT, etc.
New Zealand student visa application process
Depending on how you want to apply for your student visa, the steps you need to follow will differ. Keep reading for a step-by-step guide on how to apply for a New Zealand student visa online and offline.

These are the simple steps to follow when applying for a visa online:

Firstly, you will need to create an account on New Zealand Immigration Online. Once you have done this, you can fill out your application form. Before moving on, it is important to proofread and check for any mistakes.

Secondly, make sure you have all of the required documents on hand. Once you have these, you can upload your photograph. There are specific requirements for size and clarity, so check it beforehand. Complete your application by entering all required information and uploading any additional documents.

Finally, to apply for a student visa, you will need to send your passport and the application fee to Immigration New Zealand. Your passport should reach them within 20 days of applying, or your application may be rejected and you will not receive a refund.

To apply for a student visa to study in New Zealand offline, you'll need to follow these steps:

Download and fill out an application form: You can find this form on Immigration New Zealand's website.

Get supporting documents together: These include academic transcripts and other required paperwork.

Prepare your photos: Make sure you have passport-style photos that meet all of Immigration New Zealand's requirements.

Pay your application fee: Fees can be paid online, at a Visa Application Centre, or at an Immigration New Zealand office.

Submit your application: Once everything is completed, you can submit your student visa application at a Visa Application Centre or an Immigration New Zealand office.

Applying for a student visa online is the quickest way to get your visa processed, taking around 20 days on average. On the other hand, applying for a student visa offline can take anywhere from 5-6 weeks, and in some cases up to three months. To avoid delays in getting your visa approved, starting the application process as early as possible is ideal. The processing time for your student visa also depends on the educational institution you're applying to.
New Zealand Student Visa Latest News

Since July 31, 2022, student and visitor visa applications have been processed by New Zealand's immigration officials, with over 5,000 students being able to enter New Zealand through a border exception once their visas were approved.
Revised post-study work rights:
There is a significant change to the post-study work rights. Degree-level students are unaffected, but non-degree students will only be allowed to work in the country if their qualification is on the Green List, including those part of the labour market skill shortage. These roles include construction, health and social services, primary industries and science, engineering, ICT, electronics and telecommunications, etc. Graduate students can have three years of post-study work. Also, no student can apply for a second work permit.
More financial resources required:
Under new regulations, international students must have NZD 20,000 (30,79,36,851VND) per year for higher education and English-language courses, and NZD 17,000 (26,17,46,324 VND) per year for primary and secondary courses. Students transferring to a work permit must provide proof of NZD 5,000 (7,70,23,546 VND). In addition, students must provide their full first-year tuition fees upfront.
Balanced work opportunities:
New Zealand intends to reduce the number of low-skilled migrant labourers entering the nation. As a result, students who study for degrees that lead to more in-demand employment in New Zealand will have a better chance of working in or immigrating to New Zealand.
Before applying for a visa, please ensure you have all the required documents. Find below the New Zealand student visa checklist:
A filled-out and signed application form
Your passport
Two passport-size photographs in colour
The visa fees are in addition to the immigration charge
Medical certificates, including a chest x-ray
Finding the New Zealand student visa process intimidating? Don't worry, aecc is here to help at every step of the way. The process of getting to New Zealand just got a whole lot breezier – All you need to do is contact us right away!
We're here to support you
When it comes to visas, the process and outcomes can be very daunting for a lot of people. You need a team you can trust to give you the right guidance on documentation and process.
At AECC Global, we've got years of experience in handling visa applications. Requirements vary by country and change often. We are always updated about the changes and equipped to support you. While our counsellors can guide you on general visa documents if you are managing your own application, you have the support of our in-house migration agents if you need help with a more complex question, Fill in the enquiry form below!
Is it difficult to get a New Zealand student visa?
Applying for a student visa in New Zealand can be overwhelming, as it is a complex process. But, it is an easy process once you figure out the New Zealand student visa requirements after narrowing down on the visa that will work for you. (That's where we step in!)
Is IELTS required for a New Zealand student visa?
How much bank balance is required for a New Zealand visa?
To get in touch with our expert team, simply leave your details below and we'll call you for a FREE consultation.

To get in touch with our expert team, simply leave your details below and we'll call you for a FREE consultation.
What our students say about us
Don't just take our word for it, check out what our satisfied students are saying about us
I knew AECC through a friend's recommendation. Because at first, I was quite vague about the study abroad route, so I just called to ask about studying abroad. Unexpectedly, the counselors are so thoughtful (What I love most is that from consulting to support for admission and Visa application, all are free). Thanks to that, I have found my study path and my loving school. Thank you very much at AECC. "Slightly showing off _ I still have a scholarship"
With the Master of Nursing Practice program, I will be able to fulfill my career goal. The program involves intensified clinical practice, which I believe is the best way to enhance one's knowledge of the discipline. Activities which involve discussion of the global perspectives of nursing will equip me with knowledge to be a globally competitive nurse.
I will take Advanced Diploma of Information Technology at Southern Cross Education Institute as a continuation of the course I have studied here in the Vietnam that gained me a vocational education. I wanted to study this course because I know that what I will learn from their curriculum can be used to my advantage once I apply for a job in my home county or in Japan.  
I believe that the AHIC is the best place for me to get my education because their school's vision is directly aimed at overseas students of different nationalities, like myself. They are best-suited to provide me with well-rounded training that also considers cultural diversity. Through them, I am confident that I would be able to reach my full potential and achieve my goals in advancing my career.
Canberra Institute of Technology (CIT), which offers a course in Early Childhood Education and Care.  The institute has high quality education, which provides the most up -to-date techniques and effective teaching strategies, and I believe that is what I need to help me shape my career
AECC Global provided great assistance on my student visa application in Melbourne, Australia. They made sure that I was on the right track as I extended my visa and kept me updated on the application process. Additionally, the team has been very approachable and always there to answer all my queries.