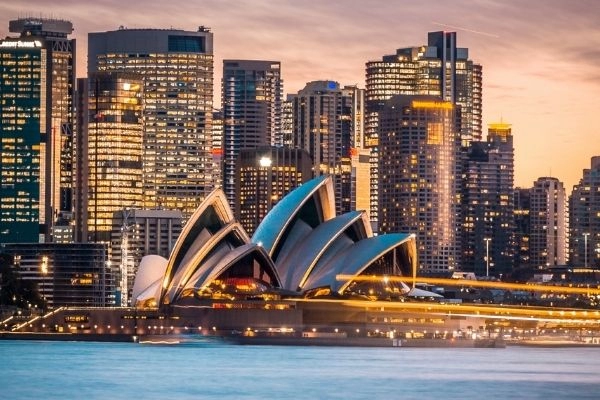 Student Visa Requirements in Australia
Let us guide you through student visa Australia requirements & application process for your higher education.
Student Visa for Australia From Vietnam
Australia is one of the most sought after destinations thousands of students from Asia apply to study. Housing hundreds of world-class institutions for a range of courses, Australia promises bright career prospects after graduation. Australia is a first world multicultural safe and economically sound country that offers a superior lifestyle for its citizens and residents
AECC Global Vietnam
is here to help you process your Visa seamlessly for your favourite destination such as Australia, Canada, UK and the USA without any hassle.
Boasting one of the lowest unemployment levels of any country, combined with high incomes and a first class education, healthcare and social security system, Australia has become a country of choice for students from all parts of the world. And Australia would welcome skilled H1B visa holders as permanent residents.
Here are the basic student visa Australia requirements you need to meet to secure an Australian student visa from Vietnam.
Genuine Temporary Entrant requirement 
Financial requirements
English proficiency
Character and health requirements
Types of student visa in Australia

Subclass 500 is the student visa for Australia that all international students have to apply for. To apply for this visa, you should have secured a COE (Confirmation of Enrolment) or an offer letter from an Australian institution for a CRICOS registered course. 
Additionally, you might be asked to attend an interview at your nearest Australian embassy or consulate. With this visa, you can study two or more related courses if the course gap is less than two calendar months. 
You will also be expected to prove your English proficiency by taking one of the accepted standard English tests (IELTS, PTE, TOEFL iBT and CAE). You will need to submit the evidence of your financial status to prove you can pay for your studies and stay in Australia. 
OSHC (Overseas Student Health Cover) is a must and it should be valid throughout your stay in Australia. Some courses require students to have their health checked and certified as healthy by doctors in their country and later approved by the Australian immigration department. Furthermore, a criminal record check is mandatory as a part of your character assessment. 
Eligibility for Student Visa in Australia

Basic checks before you apply 

You should be enrolled in your desired study program in Australia

You should hold Overseas Student Health Cover (OSHC) or either fall in any of the exemption categories

You must be equal to or more than 6 years 

You need to prove that you have a welfare arrangement (in case you are less than 18 years of age)
Australia student visa documentation checklist

A copy of your passport along with a copy of your driver licence or national identity card and your birth certificate. 

A completed visa application form (157A).

English test scores.

Confirmation of Enrolment or an Offer letter from the institution.

Evidence of your financial capacity to support your studies. 

Health Insurance (OSHC).

Criminal check record. 

Health check-up results.

Recent passport-size pictures.
Australia student visa application process

Most applications for a student visa for Australia take a month to process. The best part is that you can apply for a student visa in Australia from anywhere in the world. Once your visa application is lodged, you can view the status of it through your ImmiAccount. 
How to Apply for Australia Student Visa

A registered migration agent can also carry out the entire process on your behalf. If your visa application is successful, you will be notified via email on the same with your Visa Grant Number, Date of expiry of your visa and the conditions associated with your visa.
We're here to support you
When it comes to visas, the process and outcomes can be very daunting for a lot of people. You need a team you can trust to give you the right guidance on documentation and process.
At AECC Global, we've got years of experience in handling visa applications. Requirements vary by country and change often. We are always updated about the changes and equipped to support you. While our counsellors can guide you on general visa documents if you are managing your own application, you have the support of our in-house migration agents if you need help with a more complex question, Fill in the australia student visa application / enquiry form below!
How much money do I need for an Australian student visa?
Financial requirements: Evidence of sufficient funds to cover tuition, travel and living costs. From February 2018, the amount you need to prove you have for living costs (separate from tuition and travel) is set at AU$20,290 (~US$13,750) for a year.
Which English test is required for an Australian student visa?
How can I apply for a student visa in Australia?
What is subclass 500 visa Australia?
How long does a subclass 500 visa take?
How long does immigrant visa processing take?
To get in touch with our expert team, simply leave your details below and we'll call you for a FREE consultation.

To get in touch with our expert team, simply leave your details below and we'll call you for a FREE consultation.
What our students say about us
Don't just take our word for it, check out what our satisfied students are saying about us
I knew AECC through a friend's recommendation. Because at first, I was quite vague about the study abroad route, so I just called to ask about studying abroad. Unexpectedly, the counselors are so thoughtful (What I love most is that from consulting to support for admission and Visa application, all are free). Thanks to that, I have found my study path and my loving school. Thank you very much at AECC. "Slightly showing off _ I still have a scholarship"
With the Master of Nursing Practice program, I will be able to fulfill my career goal. The program involves intensified clinical practice, which I believe is the best way to enhance one's knowledge of the discipline. Activities which involve discussion of the global perspectives of nursing will equip me with knowledge to be a globally competitive nurse.
I will take Advanced Diploma of Information Technology at Southern Cross Education Institute as a continuation of the course I have studied here in the Vietnam that gained me a vocational education. I wanted to study this course because I know that what I will learn from their curriculum can be used to my advantage once I apply for a job in my home county or in Japan.  
I believe that the AHIC is the best place for me to get my education because their school's vision is directly aimed at overseas students of different nationalities, like myself. They are best-suited to provide me with well-rounded training that also considers cultural diversity. Through them, I am confident that I would be able to reach my full potential and achieve my goals in advancing my career.
Canberra Institute of Technology (CIT), which offers a course in Early Childhood Education and Care.  The institute has high quality education, which provides the most up -to-date techniques and effective teaching strategies, and I believe that is what I need to help me shape my career
AECC Global provided great assistance on my student visa application in Melbourne, Australia. They made sure that I was on the right track as I extended my visa and kept me updated on the application process. Additionally, the team has been very approachable and always there to answer all my queries.